Using all my years of experience in the city, I have put together this Barcelona 2 day itinerary to cover the highlights of Barcelona so you can get a taste of what the city has to offer.  Although there are so many things to do in Barcelona it's impossible to see everything, I've tried to narrow it down so you can get the most out of just 2 days in Barcelona, including some of the top attractions and my favourite places to eat and drink.
This site contains affiliate links. If you click through the links on this page and make a purchase, I may earn a small commission. As an Amazon Associate I earn from qualifying purchases. Thank you for supporting Why Visit Barcelona. [Learn more]
How Many Days to Spend in Barcelona?
It is hard to say how many days in Barcelona are enough, but generally speaking, the more time you have, the better!  If you can, I highly recommend spending at least 3 or 4 days in Barcelona to properly explore, but with two days in Barcelona, you can certainly have a wonderful time.
The Best Things to do in Barcelona in 2 Days
For the purposes of this Barcelona itinerary, I've assumed that you will be spending a weekend in Barcelona and planned the activities as such – if you come to Barcelona on different days of the week then be sure to check opening times as places like the Boqueria Market are closed on Sundays.
I've tried to mix up this itinerary to include some of the more typical Barcelona attractions, while still exploring a lot of the different neighbourhoods in Barcelona.
You'll notice that I haven't included any museums in this itinerary – for your first trip to Barcelona, I'd recommend spending as much time as you can outside on the streets and soaking up the atmosphere.  Football fans may also be horrified by no mention of Nou Camp, so feel free to chop and change my Barcelona activities to best suit your tastes!
Barcelona 2 Day Itinerary: Day 1
La Rambla
A walk down the Rambla is a must for first-timers; it is the most famous street in Barcelona but it gets crowded and busy, so make this your first stop in the morning.   It is also a popular street for pickpockets in Barcelona, so watch your belongings at any time of day!
However, first thing in the morning La Rambla is blissfully quiet, and you can grab some breakfast at the wonderful Boqueria Market.  Later on in the day, La Rambla fills with stalls, living statues and throngs of people, so if you stay in the market for a while you are bound to see it getting more lively!  Start off at Plaça Catalunya and walk down towards the sea.
Want More Barcelona Articles?
Check out these blog posts for more inspiration for your Barcelona vacation, or
head back to our homepage
to browse all of our Barcelona planning tips.
La Boqueria Market
This wonderful market is firmly on the tourist trail, but for good reason and one of the best free things to do in Barcelona.  There are still local residents doing their shopping here, but they do have to fight their way through the crowds of tourists!
If you want to take photographs of the stalls, it is polite to ask or to buy something from the stall owners.  Make sure you stray off the main walkways as the market stretches way beyond the first two rows!  You could pick up some food for breakfast or a picnic-style lunch here or at the very least some fruit for a snack.
If you want to learn more about the food and markets in Barcelona then consider a guided tour of the market followed by a cooking class – they are great fun and delicious too!  Check the times of the tours as they aren't always available in the mornings.
Port Vell & the Columbus Monument
At the bottom of La Rambla is the statue of Christopher Columbus, pointing out to sea – not towards the Americas.  You can go up to the top of the monument for €6 to enjoy lovely views of the city, or simply stroll by it.  From here, turn left and walk along the port front.
Port Vell means Old Port, but it was actually built for the 1992 Olympic Games, when the whole of the beach and waterfront was redesigned and rebuilt.  Now you can admire the boats docked here, including some insanely big super-yachts!
Keep an eye open for the giant lobster sculpture, and The Barcelona's Head sculpture designed by American Pop Artist Roy Lichtenstein for the 1992 Olympic Games.
Lunch at La Xampaneria
Can Paixano, affectionately known as La Xampanyeria thanks to the delicious cava they sell, is always stuffed to the brim with locals and tourists alike.  If you like it cosy (read: jam-packed) and don't mind standing up to drink or being trampled on a bit, the cheap cava and delicious sandwiches are worth the scrum.
*COVID restrictions now mean that there is table service in Can Paixano, and there is much more room to manoever!
You can pop in here just for a glass of cava, but order 2 glasses or more and you need to get some food too.  As well as sandwiches there are also plates of tapas such as cheese, morcilla black pudding and croquetas (cheese and ham potato croquettes). All the tapas are served in generous portions, and a meal works out at just over 10 euros for a bottle of cava and 2 tapas.
If that sounds like too much, then head to the nearby neighbourhood of Barceloneta.  For delicious tapas, try La Bombeta or Bar Jai-Ca which are probably equally busy, if a little less raucous. At least they have seating, although you may have to wait for a table on the weekend.
Hit the Beach at Barceloneta
Barceloneta is the old fishermen's neighbourhood, with straight narrow streets and blocks of small apartments.  You can visit the market here which is less crowded than La Boqueria or walk through the streets to the beachfront.  The sail-shaped W Hotel is an iconic Barcelona landmark that stands at the end of Barceloneta and makes for a great photo spot.
I love to just look at the sea in Barcelona, although there are plenty of beaches here, the water isn't that clean, and as you're only in Barcelona for days I would suggest leaving the sunbathing for another time, but sitting for a while on one of the benches to enjoy the sunshine is very pleasant indeed.
There are several bars and restaurants on the Barceloneta seafront to enjoy a drink while you admire the view.  However, if you're not bothered about seeing the sea, you could skip Barceloneta altogether and go straight to Ciutadella Park.
Stroll Through Ciutadella Park
This large park is one of the few green expanses in Barcelona.  The park's name comes from the large citadel and prison which was built here by Philip V of Spain after the War of Spanish Succession.  A large area of the city was demolished to make space for the citadel, designed to stop the Catalans from rebelling against Spanish rule.
Now this large green space is filled with picnicking families and groups of friends, and if you're lucky you might catch some live music or a street performance of some kind.  The park's bandstand, Glorieta de la Transsexual Sònia, is dedicated to a transsexual woman, Sonia Rescalvo Zafra, who was murdered there on 6 October 1991.
Stroll around to the lake and the Cascada Monumental Fountain, keeping an eye out for some unusual statues like that of a woolly mammoth.  The park is also home to the Museum of Natural Sciences of Barcelona and Barcelona Zoo.
Visit the Arc de Triomf
From Ciutadella, walk up Passeig de Lluís Companys to the Arc de Triomf.  It isn't quite as iconic as the Parisian version, but I love the red brick of this one.  It was built as the main entrance for the 1888 Universal Exhibition hosted by the City, and now stands tall – usually surrounded by people taking photographs, human statues and a street musician or two.  From here, take a walk through El Born district.
Explore El Born
The Born neighbourhood is a maze of streets, filled with boutique shops, eateries and bars.  The old Mercat del Born is now a cultural centre since renovations uncovered 17th Century ruins beneath the foundations.
The Basilica de Santa Maria del Mar is a lovely church that inspired the novel Cathedral of the Sea by author Ildefonso Falcones, and you can go up on the roof for wonderful views of the city – if you get there before 5.15pm when the last tour leaves.  If you're too late for the tour you can enjoy walking around or having a glass of wine in one of the bars in front of the church.
Dinner and Drinks in Gracia
Gracia was its own town before it got swallowed up in the "expansion" and was joined to Barcelona by the Eixample district.  It still has its own personality and has much more of a local atmosphere than the areas closer to the centre.
There are various Plaças where you can have a drink and a bite to eat, but if you want to try something typically Catalan, head to La Vermu for an aperitivo drink of local vermouth then to my favourite place for traditional Catalan food – El Glop.
Choose from a wide menu including grilled meats and a variety of rice dishes but I suggest you skip the paella and go for the Black Rice – a rich rice dish made with squid ink, cuttlefish, clams and prawns.  Order it with a side of aioli garlic sauce and a starter of bread with tomato and you will not regret it!  Booking in advance is recommended.
Afterwards, if you still have the energy for a cocktail, try El Ciclista or Bobby Gin for a Barcelona style huge gin and tonic.  I've got a busy day planned for tomorrow, so don't overdo it – you want to be up early and ready to go for the rest of your Barcelona itinerary!
2 Day Barcelona Itinerary: Day 2
Your second day in Barcelona is all about Gaudi.  Gaudi's architectural style has left a lasting mark on the city, and his influence is everywhere.  He's not the only Catalan architect though, and this Barcelona itinerary will also give you a chance to see some of the other incredible buildings here.
Park Güell
Parc Güell is one of Gaudi's masterpieces, originally designed as a kind of magical housing estate commissioned by Gaudi's patron Eusebi Güell.  Only three of the houses were built, yet the gardens surrounding them are beautiful and include some stunning mosaics, the famous Gaudi dragon statue and the terrace with some of the best views of Barcelona you'll find.
It costs 10 euros to enter the park (discounts for children and senior citizens are available), and you will need to reserve a time slot in advance.  Don't miss exploring the rest of the park, and head up as high as you can go for the best views of Barcelona. Book tickets online here.
I'd advise getting there as early as you can before it gets too busy when you might be able to get photographs of the famous dragon statue without other people in the photo.  An early start also means you'll be able to fit more into your day!
Once you've finished here, take the metro down to Diagonal.  Change lines and head to La Sagrada Familia.  You can also walk if you're feeling energetic!
La Sagrada Familia
La Sagrada Familia is Gaudi's famous cathedral and is absolutely stunning inside & out.  You can just wander around the outside if you like – don't miss the viewpoint from across the lake in Placa de Gaudi.
but inside is definitely worth seeing – book a skip-the-line ticket in advance online to avoid long queues.
Inside, you can see how nature influenced Gaudi's designs.  From the soaring tree-like pillars to the colourful stained glass windows producing rainbow colours as the sun shines through the panes.  A downloadable audio guide is included with the ticket price.
Unfortunately, access to the Sagrada Familia towers isn't currently allowed due to COVID restrictions, but if they do become available then definitely consider buying a more expensive ticket for those – the beautiful views of the city are worth it!  Children under 11 go free, and discounts are available for students and seniors.
You could also consider a guided tour of the Sagrada Familia, where the guide will share more information and insight into the cathedral.  After the tour, you can spend as much time as you like inside to take pictures and explore at your own pace.
Lunch at La Paradeta
Depending on how much time you choose to spend at Park Güell, you may want to have lunch before or after going to La Sagrada Familia.  Whatever you decide, don't miss lunch at La Paradeta – as long as you like fish!  This is the best and cheapest seafood restaurant in the city.
They have a counter like you might find at the market where you point at what you want – prawns, calamari, mussels, crab, lobster etc, as well as incredible tuna steaks and monkfish.  They cook it simply and quickly and call out your number for you to pick it up at the counter.  Not classy but amazing food!
However, if you don't eat seafood then there are no other options so you'll need to find somewhere else to eat.  If you can hang on until after Sagrada Familia there are lots of choices on La Rambla de Catalunya, or try Arc Iris for vegetarian.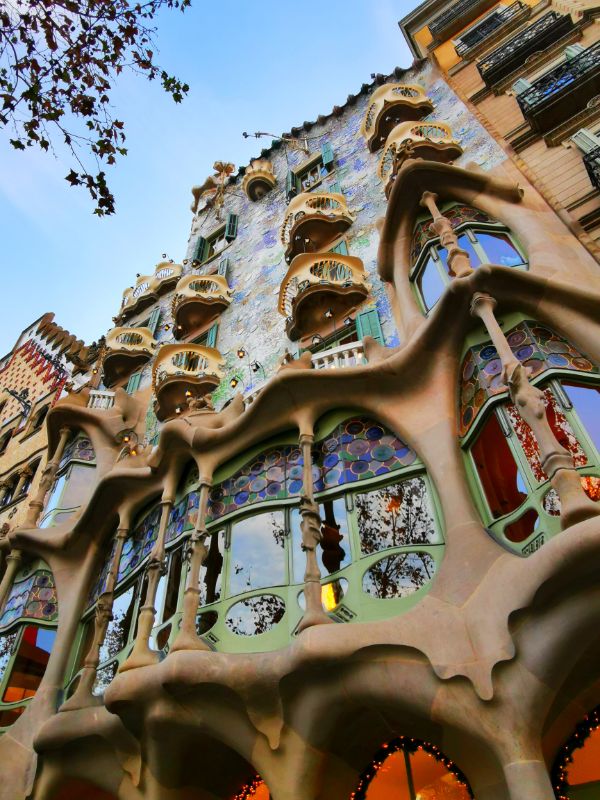 Passeig de Gracia, Casa Batlló and La Pedrera
After lunch, a stroll down Passeig de Gracia is the perfect way to let your lunch go down.  If you haven't had lunch yet, then go another street over to La Rambla de Catalunya to eat.
Assuming you've had lunch, start from where Diagonal meets Passeig de Gracia and head down towards Plaça Catalunya.  First, you'll come to Casa Milà on your left, also known as La Pedrera, which means 'the stone quarry' then further down on the right is my favourite building in Barcelona – the glorious Casa Batlló.
Casa Batlló is one of a trio of buildings that make up the 'Block of Discord', as each building was designed by a different Modernist architect and you can see the contrasting styles in each building.
If you want to go inside these buildings to see more of the architecture and impressive roof terraces, these ticket and tour options which might be useful for you:
Palau de la Música Catalana
Not far from Plaça Catalunya, is another stunning Modernist building, designed by Lluís  Domènech i Montaner.  It was built between 1905 and 1908 and has an incredible stained glass roof inside, as well as beautiful details throughout.
A guided tour is €20 per person and lasts for just under an hour, and is well worth the money.  Alternatively, if there is a performance on in the evening you could get tickets for that.  The last tour of the day is at 3pm (check the times and availability) so be careful not to miss your slot.
If you book your tickets more than 21 days in advance you can get a discount too, so the early bird catches the worm!  Visit the official Palau de la Musica website here.
The Gothic Quarter
The Gothic Quarter is a great place to explore, impressive buildings and lots of boutique shops, cool bars & restaurants.  I used to live there & it's still my favourite part of town, although it does get busy!!
Chocolate and Churros
After all that walking, perhaps you're in need of some sustenance – how about hot chocolate and churros?  Thick gloopy hot chocolate and finger-shaped donuts to dip are heavenly, and you'll find some of the best in Barcelona on Carrer de Petrixol at La Pallaresa or Granja Dulcinea.
Basilica de Santa Maria del Pi
The nearby Basilica de Santa Maria del Pi is a beautiful 14th Century Gothic Basilica which you can take a look inside for €4.50, or just stroll around the square.  There is often a food market or artists selling paintings here too.
Gothic Cathedral & Surroundings
The cathedral is another magnificent example of Gothic architecture, towering above the square.  The square often hosts special events such as wine tastings of Christmas markets if you visit Barcelona in December, or you can wander around here freely to explore the narrow streets and hidden gems.
Plaça D'Isidre Nonell has a beautiful mosaic artwork called The Kiss, Plaça de Sant Felip Neri is a peaceful square near the cathedral, there is the 'fake' gothic archway near Plaça Sant Jaume and the impressive Plaça del Rei are all worth visiting.
Dinner at La Vinateria del Call
Let's stay in the Gothic Quarter for dinner, one of my favourite tapas restaurants is the Vinateria del Call, hidden away in the old Jewish Quarter behind Plaça Sant Jaume.  It is a popular place for tourists and locals alike, so it's best to book a table if you can.
Choose from a range of tapas dishes including local cheeses, Catalan specialities and morcilla blood sausage.  There aren't too many options for vegetarians, but cheese and meat-lovers will be happy here.  The waiter will recommend a wine to go with each course and make sure you save room for dessert – the chocolate fondant is to die for!
If you fancy a drink or two after your meal, there are plenty of bars in the Gothic and Born areas – my favourite being Rubi, a tiny place with red lighting, cool music, homemade gins and delicious strawberry mojitos.
Well, that's it!  I hope this Barcelona itinerary gives you some great ideas of things to do in Barcelona over a weekend.  There are so many other wonderful things to do in Barcelona that I simply could not fit into this itinerary – so you definitely need a return visit or stay longer!
Barcelona Travel Tips
Getting There
Use Skyscanner to find cheap flights to Barcelona.  Barcelona El Prat (BCN) is the closest airport to the city.
Public transport is the cheapest way to get around Barcelona, buy the Hola Barcelona transport ticket for unlimited use of the metro, buses, trams and local trains, including the train from the airport to Barcelona.
Where to Stay in Barcelona
Use Hostelworld to find the best prices for hostels in Barcelona.  Take a look at these recommended hostels:
For hotels in Barcelona, check out Booking.com or Hotels.com for the best deals.  Recommended hotels include:
Beware of pickpockets
Although Barcelona is a safe city, pickpockets are a problem here, particularly in popular tourist areas and on the metro.  Do not keep your wallet or cash in trouser pockets and keep your hand on your bags at all times.
When you are eating at a restaurant or café, keep your bag on your lap, not hanging over your chair and avoid leaving your wallet or phone on the table – especially if eating outdoors.  It only takes a second for someone to distract you and grab it!
Buy Travel Insurance
Travel insurance will help if you do have something stolen, and it is more important than ever, with frequent changes in rules and regulations meaning cancellations are more likely.  I use SafetyWing, which even includes some cover for costs related to COVID, or check a comparison site like Travel Insurance Master to find the best cover for you.
Check Your Travel Documents
Don't forget to check the validity of your passport and any other documents for your trip.  Use iVisa to check if you need a visa to visit Spain, and get up to date official travel advice from your government, for example on the CDC website in the US or the UK government website.
Recommended Guide Books for Barcelona
Top Money Saving Tip for Backpackers
Like this post?  Pin it to read later: