My oh my, I do like a challenge, and picking just 10 of the best things to do in Barcelona is a tough one.  There are so many amazing attractions and activities in Barcelona that narrowing them all down to just 10 is extremely difficult.  However, for you dear reader I have done the best I can, so here is my Barcelona top 10 – the very best things to do in Barcelona Spain.
This site contains affiliate links. If you click through the links on this page and make a purchase, I may earn a small commission. As an Amazon Associate I earn from qualifying purchases. Thank you for supporting Why Visit Barcelona. [Learn more]
How I Chose the Best Things to do in Barcelona
I admit this was a challenge.  How to condense all of the wonderful things to do in Barcelona into just ten single items?  To be honest I chose a lot of my personal favourites, coupled with the stats of what most visitors see and do in Barcelona.
While I think that these are the best things to do in Barcelona, I must stress that they are all likely to be busy and if you have the time to see more of the city beyond these ten things you will enjoy your visit even more.  Barcelona has a lot more to offer than what one listicle can provide, so take your time and explore the hidden gems here too.
My Barcelona Top 10
10. Eat the Food
While there are plenty of international restaurants in Barcelona to enjoy, sampling Spanish and Catalan cuisine is without a doubt one of the most enjoyable things to do in Barcelona.
You could take a food tour to sample a variety of dishes while you explore with a knowledgeable guide, learn to cook some dishes yourself with a cooking class or try out your pick of the best restaurants in Barcelona.
There is something here for every budget, so you can enjoy the best food in Barcelona from cheap tapas served with lashings of cava (Catalan sparkling wine) to fresh seafood with no frills, and the very best Michelin-starred restaurants.
As for what to eat in Barcelona, while I adore paella, try the Arros Negre – seafood rice coloured black with squid ink, best served with a dollop of garlic aioli on the side.  Typical Barcelona tapas dishes include La Bomba, a large, round potato croquette filled with minced meat and deep fried, topped with a spicy garlic sauce.
Whatever you choose, order a side of pa amb tomaquet (bread with tomato) the ubiquitous Catalan dish which is as simple as it is delicious – toasted bread rubbed with garlic, smothered with tomato and drizzled with olive oil and a sprinkle of salt.
9. Visit The Museums in Barcelona
Lumping all of the museums in Barcelona together is a bit of a cop-out, but there are too many to choose from and everyone has their own opinion as to the best Barcelona museum.  There is something for everyone no matter what you are into, from modern art to Egyptian culture, Maritime history to wax models.
The most famous museums in Barcelona include the FC Barcelona museum as I mentioned above, the Picasso Museum in the Gothic Quarter, the MNAC close to the Magic Fountain, and the spectacular Maritime Museum which is housed in an old ship-building warehouse and includes actual life-sized boats.
The magnificent Palau de la Musica Catalana and Hospital de Sant Pau are both beautiful modernist buildings which you can now visit as museums.  The Palace of Music hosts regular performances in the gorgeous concert hall with a stained glass ceiling.
If you have poor weather in Barcelona during your visit, exploring the museums is a great way to get out of the rain – or enjoy the air-con if it is too hot to be outdoors!
8. See The Magic Fountain and Montjuic
Barcelona's Font Magica or Magic Fountain is quite a spectacle, even more so thanks to its stunning location.  The show happens after dark when the water in the fountain "dances" to an accompaniment of music and lights.
Head here before the sun goes down though and you can enjoy the views from the National Palace, visit the National Museum of Catalan Art (MNAC) and see the sunset from the Olympic Stadium (depending on the time of year) before the show.
If you have time to kill, head to the top of the nearby Arenas de Barcelona, a shopping centre housed in an old bull ring which has several bars and restaurants on the top floor.
7. Stroll Around the Gothic Quarter
There is nothing I love more than wandering the streets of the Gothic Quarter in Barcelona.  There are beautiful buildings, pretty squares and a maze of streets hiding all sorts of secrets at every turn.
Visit the Gothic Cathedral in the Plaça del Seu, and spot the Barcino sculpture and street art "The Kiss" nearby.  Wander the streets behind the cathedral to Plaça Sant Felip de Neri, and see the remains of the Roman Temple of Augustus – both of which are easily missed if you don't know they're there.
The Museum of the History of Barcelona is well worth a visit, to see the remains of the Roman settlement Barcino beneath your feet, as well as admire the Medieval Plaça del Rei.
Buy unique souvenirs from the independent shops on Carrer d'Avinyo, and have a bite to eat and a drink in the bars and restaurants dotted all over the neighbourhood.
It's also worth crossing Via Laietana to carry on exploring El Born neighbourhood too, where you can go up to the roof of the Santa Maria del Mar church, see the intricate fountain in Ciutadela Park and walk up to the Arc de Triomf.
6. Window Shop on Passeig de Gracia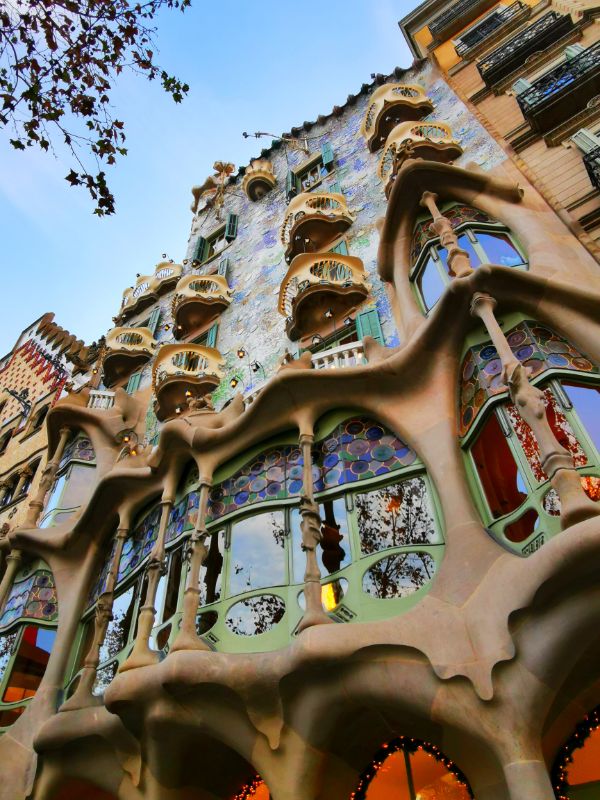 Barcelona's grandest street, walking the wide avenue of Passeig de Gracia is a must-do for any visitor to the city.  The street is lined with upmarket shops and some of Barcelona's most famous buildings – namely Gaudí's La Pedrera and La Manzana de Discordia, a city block with a trio of buildings designed by the city's leading architects of the time: Casa Batlló by Gaudí, Casa Lleó Morera, designed by Lluis Domènech i Montaner and Casa Amatller by Josep Puig i Cadafalch.
While you can't visit Casa Lleó Morera or Casa Amatller, the two Gaudí buildings are open to the public and are well worth going inside if you have the time.  Buy tickets for Casa Batlló here, and La Pedrera (also known as Casa Mila) here.
Start from Diagonal and work your way down to Plaça Catalunya to go to Las Ramblas or the Gothic Quarter, or start from Plaça Catalunya and walk up towards Gracia.  If you have time, talk a walk through the Gracia Neighbourhood too for leafy squares, independent shops and some excellent bars and restaurants.
5. Ramble Down Las Ramblas
Barcelona's most famous street or rather series of streets ( Rambla de Canaletes, Rambla dels Estudis, Rambla de Sant Josep, Rambla dels Caputxins, and Rambla de Santa Mònica) are a must-see in Barcelona.  Keep a close eye on your belongings though, Las Ramblas is also popular among pickpockets!
La Rambla follows the course of an old sewage stream, so it is now much more pleasant than it used to be in Medieval times!  Each section of Las Ramblas has a different name related to what used to be (or still is) found on that part of the street.
La Rambla de Canaletes is the site of the Font de Canaletes fountain, a symbol of Barça Football Club where fans congregate to celebrate victories.  La Rambla dels Estudis refers to the site of the former Jesuit University, whose only remainder is the Church of Bethlehem.  You used to find a pet and animal market here but that has thankfully stopped.
La Rambla de Sant Josep is also known as La Rambla de les Flors, and is where you will find stalls selling flowers and plants at the open-air flower market.  La Rambla dels Caputxins – the site of a former Capuchin monastery, which is now where the Liceu opera house stands, and La Rambla de Santa Mònica is named after the convent of St. Monica.
Like all the popular things to do in Barcelona, La Rambla gets busy so an early morning stroll is most enjoyable.  Call into La Boqueria Market for breakfast and make your way down to Port Vell and Columbus Monument, or start at the Port and walk up towards Plaça Catalunya.
Keep your eyes peeled for the Liceu Theatre – a beautiful building, especially when lit up at night.  Don't miss the Miro mosaic on the pavement close to the crossroads with Carrer de l'Hospital, and look up to the buildings around you to spot the unusual dragons on Casa Bruno Cuadros on the corner of Carrer del Cardenal Casañas.
On La Rambla de Santa Mònica you'll also find Barcelona's selection of human statues, some of which are excellent and clearly spend a lot of time perfecting their costumes and performance.  Others aren't as impressive, but you can choose your favourite!
4. Explore La Boqueria Market
La Boqueria is the most-visited market in Barcelona, by tourists at least, but any of the wonderful food markets in Barcelona are worth a visit.  Markets still play an important part in city life, and residents buy their food here – assuming they can weave their way around the tourists.
For that reason you might enjoy a visit to a different market with a more local feel – the Mercat de Sant Antoni, Mercat de l'Albaceria and the Mercat de Santa Caterina, for example, are all good choices.  But, La Boqueria is a classic and while you're on Las Ramblas you should at least pop in.
Make sure you go down the side aisles, not just following the crowd down the middle aisle, as you'll find different and cheaper stalls on the outskirts of the market.  Fresh fruit juices are a popular choice for visitors, as are ready-to-eat snacks, but for a good meal try one of the tapas bars in the market.
El Quim de la Boqueria has a delicious variety of tapas, sandwiches and main meals on their menu – if you can grab a seat (it's a popular place), and Bar Quiosc Modern gets great reviews too.
3. Get Lost in Park Güell
One of my favourite places in Barcelona, Park Güell was designed by Gaudí as a kind of housing estate, and he envisioned houses up on the hillside overlooking Barcelona amidst picturesque gardens.
Thankfully, the idea never quite took off and now visitors can enjoy walking around the park and admiring Gaudí's famous mosaiced terrace and dragon statue that adorns so many postcards of Barcelona.
There is a fee to enter the park, and it's best to book in advance to guarantee entry at your preferred time (book tickets here).  First thing in the morning will beat the crowds, or late in the afternoon is also lovely, when the sun has moved around and you can get gorgeous photos from the terrace, taking in the view of the gingerbread-like guard posts at the entrance to the park and the city below.
Take time to explore the rest of the park as well as the famous parts, the views get better and better the further up you go.  Once you've had your fill I'd recommend leaving through one of the exits at the top to visit the Mirador de Joan Sales, one of my favourite views in Barcelona.
2. Visit Camp Nou – The Home of FC Barcelona
For football fans, there is no discussion – Camp Nou is the top thing to do in Barcelona.  The FC Barcelona Museum is Europe's most visited museum, and Camp Nou is the largest stadium in Europe and the fourth largest in the world, with a seating capacity of 99,354.  The stadium opened in 1957 and a Camp Nou stadium tour is one of the most popular things to do in Barcelona.
Tours of the stadium include the chance to:
Experience Barça passion at Camp Nou, the home stadium of FC Barcelona
Step back into the history of Barcelona as you tour through Camp Nou
Enjoy the panoramic views of the stadium
Visit the FC Barcelona Museum
Immerse yourself in the brand new audiovisual multimedia area
If you want to get even closer to the action, you can book a Players Experience Tour, which includes:
Star tour with an official guide
Visiting the FC Barcelona changing room
Chance to sit in the press room
Free shirt personalization
Multimedia audio-guide
Official FC Barcelona gift
If you're lucky you can get tickets to see Barça in action at one of their home matches, or at a friendly game played in the stadium.  My first visit to a football stadium was to see Catalunya vs Brazil at Camp Nou, which was quite an experience!  Check fixture dates and buy tickets to see a match on the official FC Barcelona website here.
1. Go Inside La Sagrada Familia
This magnificent basilica has to be number one on any Barcelona top 10 list, and Gaudí's breathtaking unfinished masterpiece is a sight to behold.  Building work began on the cathedral in 1882, and work is still ongoing – thanks to various delays from civil wars to the COVID pandemic.
You can see the basilica from the outside for free, admiring the intricate Nativity Façade and austere Passion Façade from outside the gates.  Don't miss the photo opportunity from one of the most instagrammable places in Barcelona of La Sagrada Familia across the pond in Plaça de Gaudí.
However, to fully appreciate Gaudí's design and to get up close and personal with this incredible building it really is worth paying to go inside La Sagrada Familia.  As well as a cathedral to honour the Holy Family, Gaudí wanted to celebrate nature in all its glory, and the influence of trees and animals can be seen everywhere.
I'd recommend taking a Sagrada Familia tour with a guide so you can learn more about Gaudí's design and the basilica, and then explore at your own pace afterwards.  You can also get tickets which include access to one of the towers for incredible views of Barcelona.
Well, I hope you've enjoyed my Barcelona top ten things to do – do you agree?  Have I missed anything that would be in your top ten?  If you have any more suggestions for the best things to do in Barcelona let me know in the comments below and let's get debating!!
Want More Barcelona Articles?
Check out these blog posts for more inspiration for your Barcelona vacation, or
head back to our homepage
to browse all of our Barcelona planning tips.
Barcelona Travel Tips
Getting There
Use Skyscanner to find cheap flights to Barcelona.  Barcelona El Prat (BCN) is the closest airport to the city.
Public transport is the cheapest way to get around Barcelona, buy the Hola Barcelona transport ticket for unlimited use of the metro, buses, trams and local trains, including the train from the airport to Barcelona.
Where to Stay in Barcelona
Use Hostelworld to find the best prices for hostels in Barcelona.  Take a look at these recommended hostels:
For hotels in Barcelona, check out Booking.com or Hotels.com for the best deals.  Recommended hotels include:
Beware of pickpockets
Although Barcelona is a safe city, pickpockets are a problem here, particularly in popular tourist areas and on the metro.  Do not keep your wallet or cash in trouser pockets and keep your hand on your bags at all times.
When you are eating at a restaurant or café, keep your bag on your lap, not hanging over your chair and avoid leaving your wallet or phone on the table – especially if eating outdoors.  It only takes a second for someone to distract you and grab it!
Buy Travel Insurance
Travel insurance will help if you do have something stolen, and it is more important than ever, with frequent changes in rules and regulations meaning cancellations are more likely.  I use SafetyWing, which even includes some cover for costs related to COVID, or check a comparison site like Travel Insurance Master to find the best cover for you.
Check Your Travel Documents
Don't forget to check the validity of your passport and any other documents for your trip.  Use iVisa to check if you need a visa to visit Spain, and get up to date official travel advice from your government, for example on the CDC website in the US or the UK government website.
Recommended Guide Books for Barcelona
Top Money Saving Tip for Backpackers