September is a wonderful time to visit Barcelona, as the busy tourist season is drawing to a close and the locals return from their summer holidays to enjoy the warm weather and celebrate several festivals throughout the month.  In this post, I'll share the best things to do in Barcelona in September, and which festivals you cannot miss when coming to Barcelona in the fall.
This site contains affiliate links. If you click through the links on this page and make a purchase, I may earn a small commission. As an Amazon Associate I earn from qualifying purchases. Thank you for supporting Why Visit Barcelona. [Learn more]
Why Visit Barcelona in September
As I just mentioned, September is one of the best times to visit Barcelona.  During August, the city fills with tourists, and the locals head out on their summer vacations, leaving some of my favourite restaurants and bars closed while they are away.
However, in September, as the kids head back to school, the numbers of tourists decrease, and the locals come back home.  The weather is perfect for enjoying a range of activities, from sunbathing on the beach to hiking on cooler days, and the festival season is in full swing.
Want More Barcelona Articles?
Check out these blog posts for more inspiration for your Barcelona vacation, or
head back to our homepage
to browse all of our Barcelona planning tips.
Weather in Barcelona in September
The sticky summer heat is starting to subside, although it is still pretty hot in Barcelona during September.  There might be a few rainy days, but you can expect most days to be sunny and warm.
Barcelona temperatures in September are usually above 20°C, with an average temperature of 21.5°C (71°F).  The hottest days could reach over 26°C (79°F), and the lowest temperatures may dip to around 18°C (65°F).
There is an average of 5 rainy days in Barcelona in the month of September, so it is still worth bringing a light jacket and umbrella just in case!
What to Do in Barcelona in September
Enjoy Barcelona's September Festivals
Barcelona is host to two major festivals during September – La Diada on 11th September, and La Mercé on 24th September.
La Diada Nacional de Catalunya
The National Day of Catalonia is celebrated on the 11th of September, the day that Barcelona finally fell to the armies of the Bourbon king Philip V of Spain during the War of the Spanish Succession in 1714.  It is a day of Catalan pride, and the streets are filled with Catalan flags, events, and more recently marches in favour of Catalan independence.
Celebrations and marches usually centre around the Arc de Triomf (near where the final battle of the siege took place) and Placa Catalunya.  It can be wonderful to witness so many people celebrating their nationality in one place, with the red and yellow Catalan flags flying, but be aware that there is a high police presence and try not to be caught up in the demonstrations.
La Mercé
This festival is the annual Festa Major of the city of Barcelona and is in honour of the Roman Catholic feast day of Our Lady of Mercy or La Mare de Déu de la Mercè in Catalan.  Shortened to La Mercé, the official Feast Day is the 24th of September, although the celebrations last for around 5 days.
Everything Catalan is celebrated, from traditional Sardana dancing and human towers known as Castellers, to parading giant models through the streets.  You'll also be able to take part in one of the most fun (and potentially dangerous) activities known as a Correfoc – a Fire Run, involving fireworks in the streets.
There are stages around Barcelona set up for live music, street theatre and fireworks.  It is certainly one of the most fun times of the year to be in Barcelona!
Neighbourhood Festivals
The different neighbourhoods in Barcelona also have smaller festivals that they celebrate every year.  Probably the most famous is the Festes de Gràcia in August, but Poble Nou, La Ribera and Barceloneta have their street festivals in September.
These Festes Majors usually involve community events such as group meals in one of the quieter streets or squares, live music and entertainment and activities for the kids.
Hit the Beach
September is wonderful beach weather, without as many crowds as the summer season.  The Mediterranean Sea is warm and still lovely for swimming, or you can just lounge out on the sand.
You could also try your hand at SUP or hire a boat to get out on the water.  Barcelona is also a nice spot to do some scuba diving, although it isn't the best place in the Mediterranean for diving there are some decent places.
The chiringuito beach bars are still open in September, so you can enjoy a drink and some food on the sand as you watch the world go by.
Admire Gaudí's Work
Gaudí left his mark all over Barcelona, and no Barcelona itinerary is complete without visiting at least one of his famous buildings.
La Sagrada Familia is my personal favourite, and this magnificent cathedral is breathtaking, both inside and out.  If you decide to go inside (which is definitely worth it!) make sure you book skip the line tickets in advance to avoid long queues.  A guided tour is more expensive but will give you more insight into Gaudí's designs, and you'll still have plenty of time after the tour to take photographs.
Park Güell is another popular choice for enjoying Gaudí's designs, with the iconic dragon statue and beautiful mosaic terrace with views of Barcelona.  Again, book your timed entry slot online to make sure you can get access at the time you want.
Gaudí designed several other buildings in Barcelona as well as these magnificent landmarks.  Casa Batlló and La Pedrera are within walking distance of each other on Passeig de Gràcia, and you can buy tickets to explore inside.  Both also have rooftop terraces with lovely views, and Casa Batlló has a bar on the terrace where you can get a drink amid Gaudí's funky chimneys and curved roof.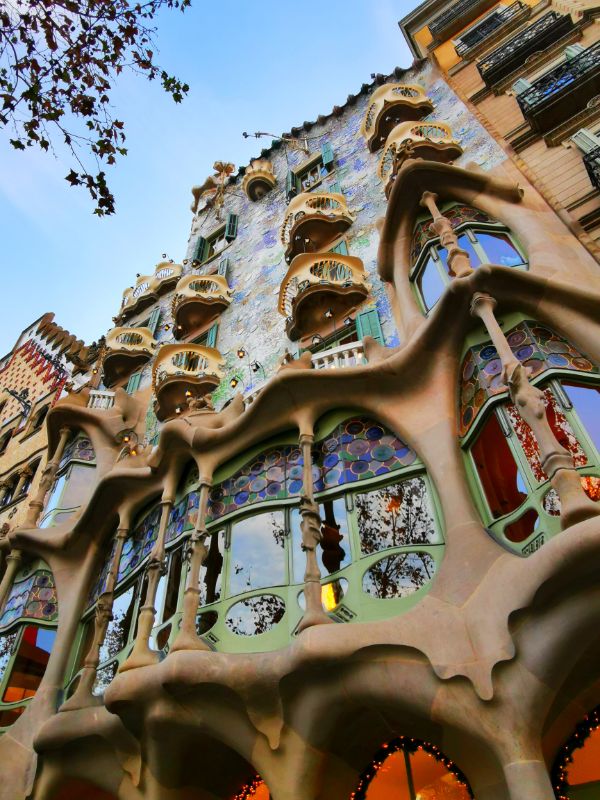 Enjoy a Rooftop View
Speaking of rooftop terraces, September is a great time to sit outside and enjoy a drink while surveying the Barcelona Skyline.  Many bars and hotels have rooftop terraces where you can do just that.
Some favourite spots include the rooftop of the Museu d'Història de Catalunya with a view of Port Vell, Ayre Hotel Rosselló with a splendid view of Lag Sagrada Familia and Hotel Colon with a view of the Gothic Cathedral.
That said, these beautiful views do come with a premium price tag so if you're visiting Barcelona on a budget, then you can simply choose a bar with a terrace in one of the squares in Barcelona and watch the world go by.  Some of the best views in Barcelona are of its people!
Taste Delicious Food in Barcelona
There is excellent food available in Barcelona all year round, but the chance to have dinner outdoors in the late summer and autumn is a true delight.  However, before dinner take a walk through some of the markets in Barcelona to see what is in season in September.
September is the beginning of the mushroom season in Catalonia, and you'll start to see various kinds of bolets (mushrooms) in the markets as well as other fresh produce.  Consider taking a food tour in Barcelona to learn more about Catalan cuisine and taste some of the best food in Barcelona as you go.
If you prefer a more hands-on approach then a Barcelona cooking class is a great way to learn and enjoy the food in Barcelona, and you can take the recipes home with you to enjoy long after your trip has ended.
Otherwise, a stroll around the streets of Barcelona and the many tapas bars and restaurants is a lovely way to spend a warm evening.
Take a Day Trip from Barcelona
If you get tired of the city and want something a bit different, there are some fabulous day trips from Barcelona that are easily accessible by train or car.  You can head further up or down the coast to beach resorts like Sitges or Blanes, or head inland to magnificent Montserrat.
September is also a great time to visit Catalonia's wine region as it is the beginning of the grape harvest.  The Penedès region produces most of Catalonia's cava (the Catalan equivalent of champagne), and you can visit various wineries and cava producers.
Sant Sadurní d'Anoia is about an hour away from Barcelona by train and is home to some of the most famous cava producers such as Freixenet and Cordoniu, as well as lots of smaller producers where you can taste the wines and enjoy a barbecue.
Take a look at some of these day tours from Barcelona for more inspiration!
Barcelona Travel Tips
Getting There
Use Skyscanner to find cheap flights to Barcelona.  Barcelona El Prat (BCN) is the closest airport to the city.
Public transport is the cheapest way to get around Barcelona, buy the Hola Barcelona transport ticket for unlimited use of the metro, buses, trams and local trains, including the train from the airport to Barcelona.
Where to Stay in Barcelona
Use Hostelworld to find the best prices for hostels in Barcelona.  Take a look at these recommended hostels:
For hotels in Barcelona, check out Booking.com or Hotels.com for the best deals.  Recommended hotels include:
Beware of pickpockets
Although Barcelona is a safe city, pickpockets are a problem here, particularly in popular tourist areas and on the metro.  Do not keep your wallet or cash in trouser pockets and keep your hand on your bags at all times.
When you are eating at a restaurant or café, keep your bag on your lap, not hanging over your chair and avoid leaving your wallet or phone on the table – especially if eating outdoors.  It only takes a second for someone to distract you and grab it!
Buy Travel Insurance
Travel insurance will help if you do have something stolen, and it is more important than ever, with frequent changes in rules and regulations meaning cancellations are more likely.  I use SafetyWing, which even includes some cover for costs related to COVID, or check a comparison site like Travel Insurance Master to find the best cover for you.
Check Your Travel Documents
Don't forget to check the validity of your passport and any other documents for your trip.  Use iVisa to check if you need a visa to visit Spain, and get up to date official travel advice from your government, for example on the CDC website in the US or the UK government website.
Recommended Guide Books for Barcelona
Top Money Saving Tip for Backpackers